Viral diseases
The concept of viral disease dates back to the end of
the 19th century, with the discovery of diseases
transmissible by ultra-filterable agents that are invisible
under optical microscopy. Viruses, initially defined by
their size, are found in all animal species, in plants
(including algae and fungi) and in bacteria
(bacteriophages).
Two hundred species are pathogenic in humans. Most
viral diseases are benign (e.g. rhinitis). Others are
serious (e.g. encephalitis, AIDS, hepatitis, hemorrhagic
fevers). Finally, some viruses play a role in the
development of malignant tumors and cancers.
In 1953, André LWOFF stated the three fundamental
characteristics that make viruses original entities:
1/ viruses contain only one type of nucleic acid (DNA or
RNA) which constitutes the viral genome.
2/ viruses reproduce from their genetic material and by
replication.
3/ viruses are capable of absolute intracellular
parasitism.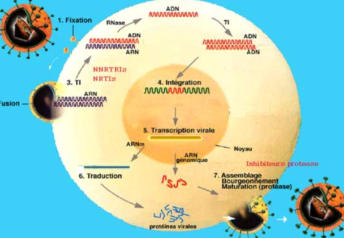 Cycle de multiplication du VIH
BIO AMOVIR's research areas
In order to find a treatment that could encompass a large
part of enveloped virus diseases, our research is focused
on molecules that could attack the viruses at two levels:
on the one hand, weakening their envelope before
infection, and on the other hand, reinforcing the cellular
machinery so that the virus cannot hijack it to its
advantage.
Preliminary studies on the HSV virus have been
conducted by the ADREMI laboratory of the Faculty of
Pharmacy of Tours. The modes of action at the atomic
level have been specified by SABNP-INSERM U829 and
the molecular modeling company SYNSIGHT. Studies on
HIV, Influenza, HSV and SARS-COV2 viruses are
conducted by the ONCOdesign laboratory.

Under the appearance of very rudimentary units, viruses
constitute a very elaborate form of parasitism. They can
only reproduce within living cells; having no energy
system, they hijack the cellular machinery to their
advantage, by modifying the intracellular oxidative
balance, in order to replicate themselves and ensure their
survival. They are, in a way, extremely simple structures,
all of whose elements protect a few small bits of genetic
code whose objective is to infiltrate a cell to parasitize it.
The detour of the cellular machinery exclusively for the
benefit of viral multiplication will progressively lead to the
death of the cell.
Some viruses have an external structure, an envelope,
which gives them particular characteristics. The virus will
leave the cell, not by bursting the cell but by forming a
bud at the expense of the cell membrane, cytoplasmic or
nuclear. This bud will isolate itself to form a whole, free
virus, capable of infecting a new cell or a new subject.
The fact of having an envelope makes the virus very
fragile. The envelope has, in fact, the fragility of the cell
membranes from which it derives. In the external
environment, these viruses will not survive for long. The
transmission of diseases due to enveloped viruses is
always done by direct or close contact.
The cell: A virus factory