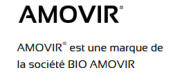 Before the herpes outbreak, at the first signs,
AMOVIR® Prevention is your essential ally in
preventing the appearance of cold sores and
stopping their development.
Thanks to the regular use of AMOVIR® Prevention,
make herpes barrier and regain your day-to-
day well-being!
AMOVIR® Labial Herpes Prevention is a medical device in the
form of a cream for external use

ADRESS
RUE DU POIRIER
14650 CARPIQUET
FRANCE

This medical device is a regulated health product which, under this regulation,
bears the CE mark. Consult the each specific set of instructions, for further
information consult your doctor or a medical professional. Not for those under 12.
Publication date of the notice: juin 2020.